From M2M to IoT
The past few years have witnessed a shift in focus from connecting places and people to connecting things. The Internet of Things (IoT) is promising to bring new business opportunities and novel ways to simplify people's lives and make industries more efficient. Examples of IoT uses include smart cities that are more sustainable, smart healthcare applications that will save lives, public safety that will keep people safe and secure, and automated industries that will make them more productive.
IoT has however been confused sometimes with machine to machine (M2M) communications which has been in use for a considerable period. Although IoT and M2M have remote devices in common, there is a difference in how the data is generated and is used to create value.
M2M is about devices connecting to a network for a bespoke application. Most often related to isolated systems within industries and companies, characterized by process-specific sensors and devices. IoT on the other hand is a broader concept defined by the combination of:
M2M communications, but not limited to cellular or SIM card compatible devices
An exploding number of communication enabled smart objects (sensors and actuators) generating huge amounts of real-time data
The capability to analyze these big data, and to translate them into actionable insights
To enable IoT mass adoption, it is indispensable to steer away from the traditional duplicated and verticalized solutions and fragmented implementations, and adopt a horizontal layered approach covering connectivity, platforms, and applications.
Horizontal approach for IoT
There are three building blocks in the value chain that need to be in place for IoT implementations to flourish. They represent the three layers in the horizontal approach: IoT radio connectivity, platforms, and applications and ecosystem (Figure 1).
Horizontalization drives down cost by sharing infrastructure and investments, adopting best practices, streamlining operations, and mixing and matching devices and applications for optimal economies of scale.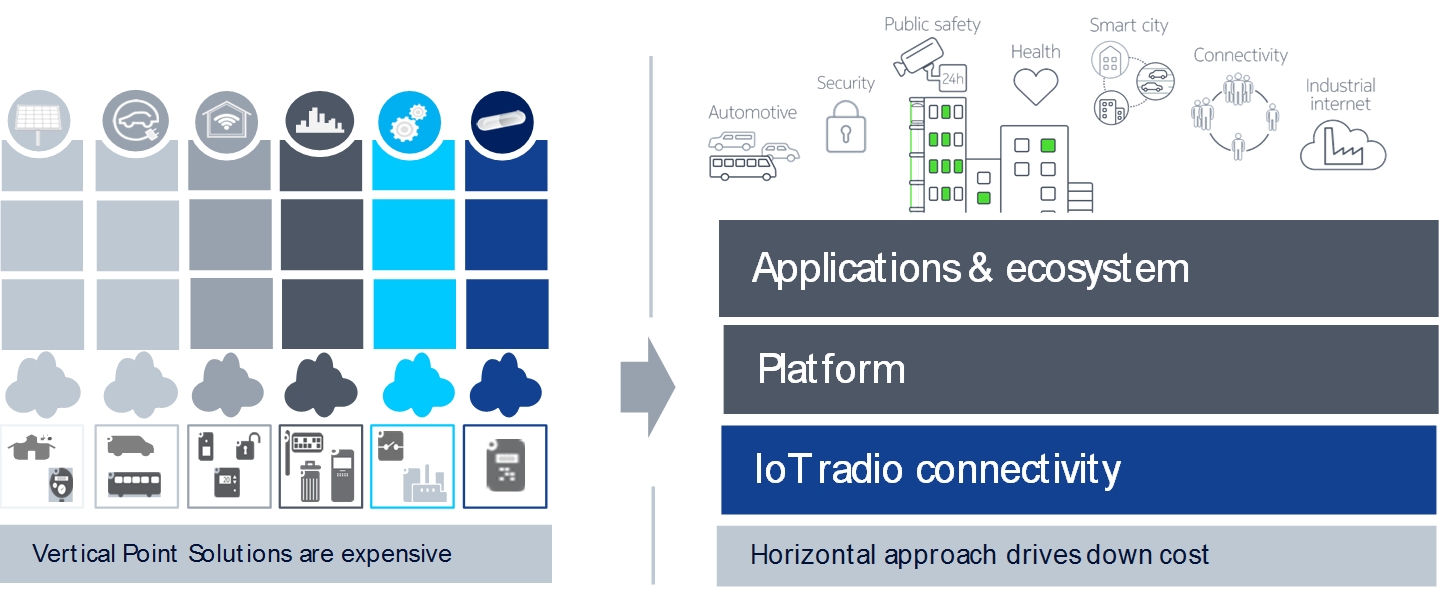 IoT radio connectivity
IoT connectivity is essentially about 3 optimization targets:

cost of connectivity (including device cost);
coverage (also in deep indoor or deep rural locations);
autonomy (device battery life for remote sensors/meters).
Connected devices need robust and scalable connectivity. High availability and low latency are required for many critical IoT solutions, like industrial sensor networks, autonomous cars and public safety applications. Extended coverage will be essential to penetrate deep into buildings, for example to reach indoor devices such as smart meters. Today there are many different access technologies, but not all are addressing the critical needs for IoT connectivity. Only standardization of the connectivity between the massive variety of devices and the networks can ensure a sustainable IoT growth.
The global cellular network ecosystem (operators, network and device vendors) has a great basis for addressing these needs with a unique existing network coverage and global economies of scale. However, some enhancements were needed and addressed by 3GPP standards to further reduce device complexity, cost, and further enhance coverage from existing cell sites. These enhancements included complementing technologies: EC-GSM (Extended Coverage GSM), NB-IoT (Narrow Band IoT) and eMTC (enhanced Machine Type Communications). Furthermore, the introduction of 5G in the market is expected to be a key enabler for massive IoT adoption.
IoT Platform
The IoT platform is a mediation layer that is central for the support of best of breed devices, independently of the applications in an open architecture. With the explosion of connected IoT devices, and applications, it is unconceivable to have different dedicated device management solutions per type of device and application use.
The Nokia IMPACT IoT platform for instance, comes with connection management capabilities from sensors and devices (millions of IoT device connections), and related support functions such as billing, mediation, and CRM. The IMPACT platform brings also device management capabilities for rapid, remote deployment of any device, sensor, meter, or module through support of IoT device management standards.
Finally, application enablement is another key function of the IMPACT platform, allowing to tap into new revenue opportunities by creating customized IoT applications and innovation use cases quickly and cost-effectively.

IoT applications and ecosystem
The success of IoT will depend on the quantity and quality of relevant applications and uses developed to leverage on the billions of connected things and the massive amounts of data collected. Deep domain-specific analytics will be critical to generate actionable insights and create tangible value.
In addition to the many connectivity technologies, there are also many different protocols through which devices, platforms and applications communicate which each other. This space is too fragmented. Interoperability, or at least a way to support multiple protocols, is essential for enabling IoT roll-out, and device and application onboarding.
With the boundaries between the different vertical sectors and industries becoming thinner, traditional industry specific solutions and uses are a thing of the past. Cross-sector collaborative effort will be essential to unleash the business potential of IoT.
The IoT Community of the Nokia ng Connect Program brings innovative companies together to work on solution concepts that require multi-industry collaboration. As an ecosystem, we define solution concepts, develop prototypes and viable business models; then we validate them by showcasing them and conducting market trials to test business model assumptions.
The IoT Community and ng Connect Program members span a wide range of industries and markets, and include innovators in infrastructure, devices, applications, content, and vertical markets.
Member organizations include customers, partners, government agencies, and universities.
We have 250+ ng Connect members and over 100 IoT Community members
Policy and regulatory overarching questions
The development of IoT will not be specific to ICT, and will raise many challenges and overarching questions. Some of those regulatory and policy related topics are briefly described in this section.
The question of governance. It is not obvious how the overlap between the different industries will impact the traditional siloed model where each sector had dedicated authority and specific regulations. It is clear however that cross-sector coordination and governance will be crucial. Clarity will be needed on what is regulated or unregulated, and the framework for licensing of IoT service providers.
Privacy and security. There are great concerns to both consumers and industries alike. IoT usually implies possibly the processing of data that relate to identified or identifiable persons, and therefore qualifies as personal data. IoT devices and platforms are expected to exchange data and store them on service providers' infrastructures. Therefore, the security of the IoT should not be envisioned by considering only the security of the devices but also the communication links, storage infrastructure and other inputs of this ecosystem. The growing risks for data misuse and cyberthreat need to be addressed by appropriate technology and policies.
Consumer protection. There are several requirements for consumer protection specific to the Telecom and Internet sectors which apply in the IoT domain such as improving confidence and building trust, transparency on offers, enforcement, consumer switching and retention, roaming, data portability and liability. These requirements will need to be carefully examined for IoT services.
Spectrum. IoT infrastructure and devices are expected to be inter-connected wirelessly; while the number of existing air interface technologies may satisfy some requirements today (e.g WiFi, Bluetooth, GPRS, etc.), these may not be suited to all applications as specific requirement such as longer reach, higher reliability, lower latency, better building penetration, etc. The heterogeneous nature of IoT and its multiple applications with various business and operational requirements makes it difficult to identify a single solution for access to spectrum to fit all the possible use cases. The quantity and type of spectrum access required will depend therefore on the operational requirements and use cases. As the IoT market is expected to grow significantly in the 5G context, governments need to facilitate the growth of the IoT market in a coherent and harmonized way. The use of technically harmonized spectrum for the development of IoT technologies and equipment should be a priority.
Liability and certification. The proliferation of IoT devices will inevitably require certification and type approval attention. For instance, devices that will be used for a medical use will need to be certified before being introduced on the market. On the other hand, in a non-medical context (e.g. wellness or fitness purposes), certification is less relevant. There are further liability issues than just product safety as in the medical or in the context of smart autonomous systems (e.g. autonomous cars) and advanced robots/IoT. Regulators will need to further analyze the potential challenges to existing liability regimes arising from these technological developments.
Conclusion
IoT has a transformative impact on the economy and promises to be a game changer for many industries. The IoT ecosystem growing fast, and as new business models and uses emerge, policy makers and regulators will need to think beyond traditional telecom frontiers.

At Nokia, we have a long history of innovation in the IoT domain. We won several prestigious awards including the 2017 Leading Lights Award for most Innovative IoT/M2M Strategy (Vendor), and the 2017 GLOMO Award in the "Best IoT innovation for Mobile Networks" category with our end-to-end IoT solution.
Nokia provides a comprehensive end to end IoT solution of network components, services, analytics and partner solutions enabling customized IoT applications to tap into new revenue opportunities and trigger new IoT use cases in different vertical industries.
Nokia is also pioneering with its worldwide IoT network grid (WING), a unique managed service that helps operators go-to-market quickly. It has been created with communication service providers and enterprise customers in mind, as a service that can help them enter the world of IoT, or further grow their existing IoT offerings with a worldwide network grid designed by Nokia for IoT devices.