The mobility of users and customers relates to users' ability to purchase services in one location and consume these services in other locations, when e.g. travelling. In a digitalized economy, where the location of a user may be concealed, difficulties can arise to determine the location of an ultimate sale which has repercussions for e.g. VAT collection. Moreover, entire business functions can easily be managed over long distances from one central location and with a minimum need of personnel present, where operations are carried out in one location and suppliers and customers are located in another location, enabled through improved telecommunications, information management software, and personal computing. This has improved the capacity of businesses to manage their global operations on an integrated basis and adopt global business models that centralize functions at a regional or global level, rather than at a country-by-country level. This enables individual group companies to exercise their functions within a framework of group policies and strategies set by the group as a whole and monitored centrally. This way, companies can achieve "scale without mass", which has also enabled SMEs to become "micro-multinationals" that operate and have personnel in multiple countries and continents.
Figure 1: Key Features of Digitalization potentially relevant for taxation

Digital companies also heavily rely on user generated data and user participation in their value creation. This has been facilitated by an increase in computing power and storage capacity and a decrease in data storage cost. This, in turn, has greatly increased the ability to collect, store, and analyze "big data" at a greater distance and in greater quantities. Whereas companies have always relied on data regarding customer preferences to improve products and services, the scale and complexity of data collection, storage and processing is exponentially greater in the digitalized economy. The OECD 2015 report highlights that traditional data collection for utility companies was limited to yearly measurement, coupled with random samplings throughout the year. With smart metering on the other hand, the measurement rate could be increased to 15 minute samples, which would equate to a 35 000 time increase in the amount of data collected. This capacity to collect and analyze data will continue to rapidly increase as the number of sensors embedded in devices that are networked to computing resources increases.
Network effects are also a key component of new digital business models as they relate to user participation, integration and synergies: a product or service gains additional value as more people use it, e.g. social networking, instant messaging, chat services, or a widely-adopted operating system and corresponding software written for it, resulting in a better user experience. Network effects are positive externalities, where the welfare of a person is improved by the actions of other persons, without explicit compensation. Leveraging these network effects, multi-sided business models have emerged as another key feature of the digitalized economy, in which the two sides of the market may be in different jurisdictions.  A multi-sided business model is based on a market in which multiple distinct groups of persons interact through an intermediary or platform, and the decisions of each group of persons affects the outcome for the other groups of persons through a positive or negative externality. In a multi-sided business model, the prices charged to the members of each group reflect the effects of these externalities. If the activities of one side create a positive externality for another side (e.g. more clicks by users on links sponsored by advertisers), then the prices to that other side can be increased.
It should be noted that multi-sided business models are more prevalent in a cross-border context and feature two specific characteristics: flexibility and reach. Digital businesses are able to flexibly use resources (content, user data, executable code), that don't expire due to their ability to be stored. These resources can create value for a company long after they have been produced and can be dynamically adapted based on evolving technology. They can also be used to enhance the value to one side of a market of the participation of the other side of the market. Moreover, digital businesses such as over-the-top platforms have much greater reach through the ability to more easily connect two sides that are located far from one another to maximize value on each side.
Taken together, the OECD 2015 Report finds that the prevalence of network effects and multi-sided business models that are often cross-border, coupled with reliance on intangible assets such as IP have a tendency toward creating monopolistic or oligopolistic structures. Where network effects are combined with low incremental costs, a company can quickly achieve a dominant position. The effect is exacerbated, where a company holds a patent or other intellectual property rights, so that is can seamlessly innovate. The OECD highlights that the impact of these network effects tends to lead to such structures, for example, where companies provide a platform or market in which users on one side of the market prefer to use only a single provider, so that value to those users is enhanced when a single standard is chosen, and the price that can be charged to the other side is enhanced because the platform becomes the only means of access to those users. Moreover, given low barriers to entry for Internet-based businesses due to progress in miniaturization and a downward trend in the cost of computing power, coupled with rapid technological development, digital markets can be volatile. While volatility could provide a check on monopolistic structures, it is strategically counteracted by long-term successful digital companies through vertical and horizontal integration and acquisition of start-ups with innovative ideas (e.g. Facebook, who bought WhatsApp and Instagram to complement its social networking site). This enables digital companies to stay relevant, launching new features and new products, and continually evaluating and modifying business models in order to leverage their market position and maintain dominance in the market. Figure 2 shows the Web World and Who owns Who.

Figure 2: The Web World and Who owns Who 2018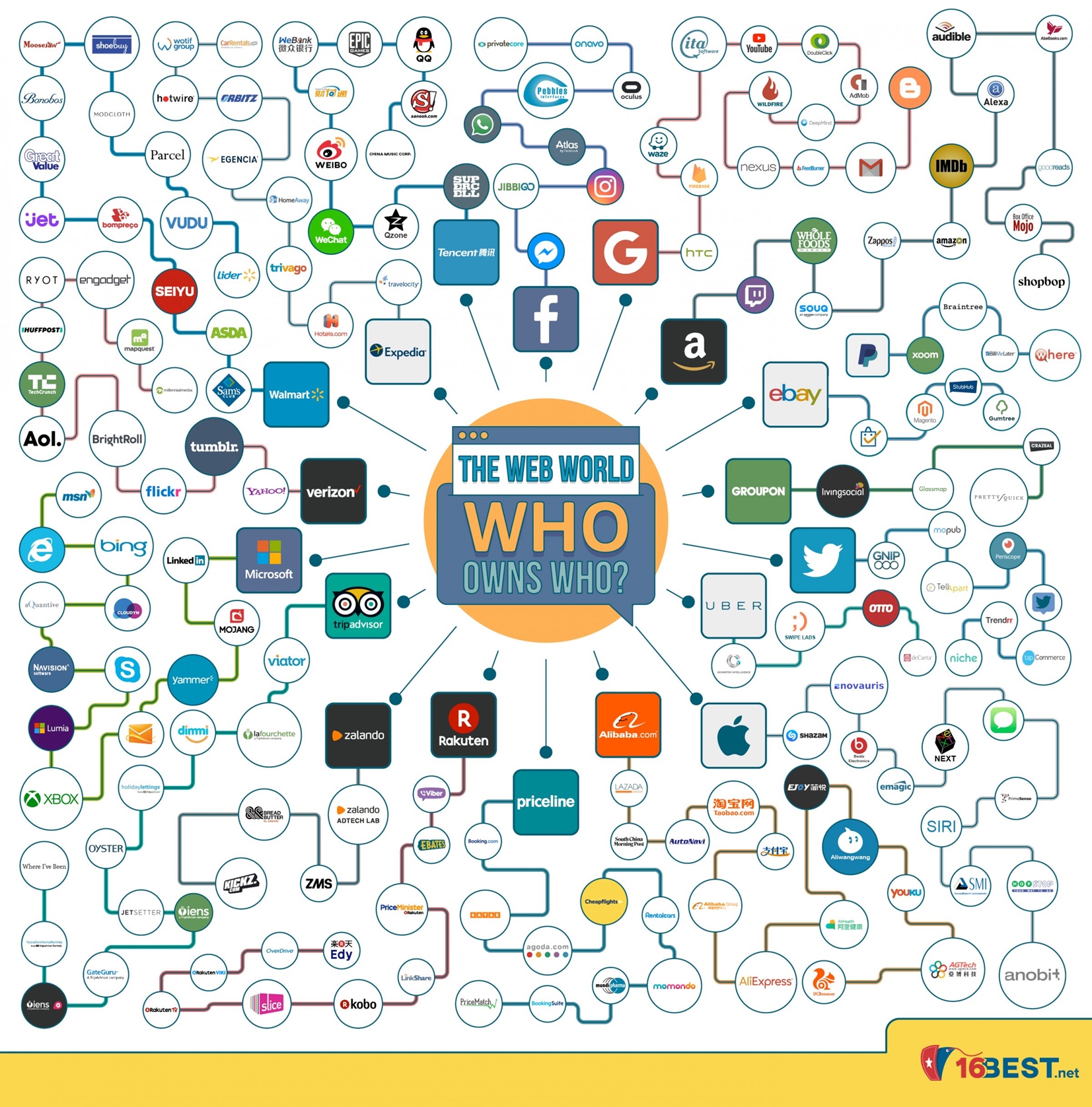 These new features of mobility, reliance on data, network effects, use of multi-sided business models, tendency towards monopoly or oligopoly and volatility as described above, are said to enable economic actors to operate in ways that avoid, remove, or significantly reduce, their tax liability within traditional tax bases. They may also generate base erosion and profit shifting concerns in relation to both direct and indirect taxes. The OECD 2015 Report states, for example, that the importance of intangibles in the context of the digitalized economy, combined with the mobility of intangibles for tax purposes under existing tax rules, may generate substantial base erosion and profit shifting opportunities in the area of direct taxes. It also highlights that the mobility of users may create substantial challenges and risks in the context of the imposition of value added tax (VAT). Furthermore, the ability to centralize infrastructure at a distance from a market jurisdiction and conduct substantial sales into that market from a remote location, combined with the increasing ability to conduct substantial activity with minimal use of personnel, may generate potential opportunities to achieve base erosion and profit shifting by fragmenting physical operations to avoid taxation.
So, in how far do these features affect taxation? Why do these features create issues with current international tax rules and make governments worry about losing corporate tax revenue, collecting VAT, or broader issues such as their effect on local competition or the creation of asymmetries vis-à-vis other economic sectors? To understand why the features as identified above create problems for the current international tax framework, we need to understand what the international tax framework is based on and designed to do.