Many industry executives spend a considerable time thinking about the following two strategic questions: "How much should my operator transform from connectivity to advanced digital services?" And, "how can my business continue to succeed in a digital and fast-evolving consumer market?"
To help in answering these overarching questions, A.T. Kearney launched a few years ago a global initiative to better understand the future of the telecoms industry and to help industry executives adapting their companies to the rapid changes in the digital marketplace. This study revealed that most telecom operators were aiming high and had strong ambitions (see also figure 1):

Basic connectivity business models - which position telcos as a network company or a data utility - were considerably less popular as future option
Majority of CxOs indicated that they want to become a "digital navigator" offering a premium network, superior customer experience and analytics, providing digital services, and partnering with over-the-top (OTT) internet players.
Today, this ambition hasn't faded. Our most recent study confirms that despite an intensifying competition for consumer's time and attention, telcos still aspire to become "digital navigators" as confirmed by over 55% of our recent interviewees - including more than 60 Chief Commercial Officers (CCOs) and Chief Marketing Officers (CMOs) across the Middle East and Europe.
Yet while the choice to adopt a "digital navigator" business model is clear, progress towards turning it into reality has been slow. According to extensive multi-year research by A.T. Kearney, even the leading operators are a long way from reaching their average target of generating at least 30% of their revenues from sources other than connectivity as of 2018. Similarly, digital share in total sales is 17% versus the ambition level of 30%. Moreover, digitization of customer service is going slowly; digital share in services for leaders is around 7%, well below their ambition level of 45%.
The fact is that telcos' execution has trailed strategic intent, shackled by their legacy operating model, including legacy mindset and IT infrastructure. There is a clear disconnect between the aspired business model and the required operating model. Drastic (digitally-enabled) changes to the operating model across product management, customer interactions and especially people and culture are needed to fulfil telcos' strategic ambitions and meet expectations of a digital consumer:
Product management needs to better prioritize the use of customer data to offer personalized pricing and propositions. Data management and analytics need to be regarded as a core competence, like for example Google or Facebook do. Product offerings need simplification, decoupling from contracts and a greater flexibility to customers. These recommendations are supported by our interviews where 84% agree on the importance of customer data analysis and 79% on the need to reduce the number of tariffs.
Customer interactions require a shift to mobile first, voice second. When asked what kind of journey customers will choose in the future, 77% of the interviewees agreed that customers will want to use mobile channels first and foremost. Customer communication will have to focus on personalization and real-time interaction. Omnichannel integration will enable greater convenience and be key to strengthen sales channels. Digitization and automation will transform customer service with an expected 30% - 50% fall in the customer service workforce as Robotic Process Automation (RPA) and AI solutions are implemented.
However, people and culture, not technology, remain the biggest stumbling blocks for telcos to become digital. More than 83% of CCO's and CMO's consider capabilities and skills as the most challenging issue. Some 66% of the interviewees identified culture as an issue, reflecting an inability to work in ecosystems, and a lack of entrepreneurial thinking and customer centricity. Almost half of the executives regard partnering with start-ups, as well as leading OTT players and technology suppliers, as a significant hurdle – a sharp contrast to the operating model of global tech players such as Amazon, Google etc.
Clearly, majority of telcos with ambitions to become a "digital navigator" have not determined the right operating model and the "how" to get there. In fact, most are moving forward at two different speeds – fast-running customer facing functions (think products, self-help and apps, chatbots, etc.) along with a slow-moving back-office (think IT, and support functions such as HR, Finance, Procurement, etc.) which risks a rupture across the organization and jeopardizes sustainable future growth.
Depending on operators' ambition level, current digital maturity, and current ability to change internally - especially in terms of their people and culture, we see three potential approaches for telcos to refine their operating model: the omnichannel model; the digital-first model; and the digital-only model (see Figure 2):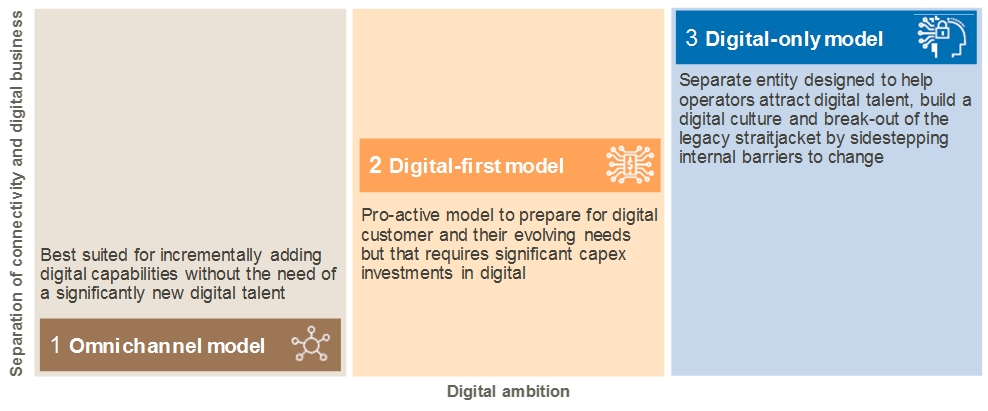 The omnichannel model is based on the belief that customers will embrace digitization relatively slowly and it involves the integration of a strong digital channel into existing direct and indirect physical channels. The model brings a clear focus on creating omnichannel journeys adapted to the expectations of the customer base. However, it risks that the telco fails to attract the right digital talent. Several incumbent operators in Europe are following this model today.
Digital-first model explicitly prioritizes digital channels, only retrofitting products, processes, and customer experience from the digital into the physical world. It typically requires capex to be invested in digital channels, along with a prioritization of the digital journey in terms of budget and design. Operators such as Telstra in Australia and Rogers in Canada are actively pursuing this model.
The digital-only model orients all activities around new revenues and services, as well as the design of the online, mobile, and voice channels into a separate legal entity especially where it's imperative to give proper focus on attracting the right talent and building a digital culture. Telcos such as VEON and SKT are pursuing this approach using OTT services. We have also recently seen some operators in the Middle East experimenting with this model.
Each approach has pros and cons: for example, the first and second option will require a much more profound and holistic multi-year transformation of the full organization, while the third (digital-only model) allows for rapid build-up, creating its own separate 'start-up-like' culture and attracting digital talents. But the latter will likely, at some point, need to be integrated into the main operations.
Whichever option telcos choose, they need to act urgently. Given the intense competition from internet-based service providers, telcos need to address their people and culture issues head on and embrace data driven product management and a mobile-first digital customer interaction if they really want to succeed with the digital consumer and become a true "digital navigator".