"Creating New Advantages for Industry Stakeholders"

Convergence to Kuwait 2017 will corroborate the need to engage stakeholders and delineate the roles that now need to be played by regulators and policy makers as an incentive for carrying out digital development investments, and for realizing new unique advantages that each stakeholder group should work toward achieving.
In this highly competitive industry, it is important to take the lead and collaborate to allow the industry to continually push innovation to the next stage. It is crucial also to ensure that all spheres of the industry are analyzed, explored and tapped to identify a road map for progression.
1 - Vision for ICT Sector Development
2 - ICT Industry Evolution and Regulatory Frameworks in the Digital Age
Topics of Discussion
Saudi Vision 2030: An incentive for sector-wide openness and collaboration
Requirements for achieving sustainable advantages in the telco business
Agile regulatory frameworks for a sustainable & healthy ICT sector
Facilitating sustainable access to infrastructure for achieving ICT development objectives
Transforming toward Digital Economy – Challenges & Opportunities
Topics of Discussion
How can policymakers and regulators incentivize sector development
Evolving regulation in a digital world
Cornerstones for ensuring digital inclusion and a healthy ICT ecosystem
Transformative elements of modern policy-making to enable digital services and emerging technologies
Digitization as an enabler of socio-economic innovation and disruption in the telecoms/ICT industry
Topics of Discussion
Evolving regulatory roles in view of Sustainable Development Goals (SDGs
Spectrum harmonization in view of 5G and regional digital transformation needs
Strategic components of an ideal spectrum policy for the region
OTT impact on operators' business
Closing remarks and brief closing ceremony
Sponsors
Viva Kuwait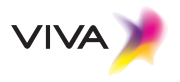 VIVA is the fastest-growing telecom operator in Kuwait. Launched in December 2008, VIVA makes things "More" for its customers by transforming communication, information and entertainment experiences. The company has rapidly established an unrivalled position in the market through its customer centric approach. VIVA's quest is to be the mobile brand of choice in Kuwait by being transparent, engaging, energetic and fulfilling. VIVA continues to take a considerable share of the market by offering an innovative range of best value products, services and content propositions; a state of the art, nationwide network and world-class service. VIVA offers internet speeds of more than 100 Mbps, due to the implementation of the most advanced fourth generation (4G LTE) network in Kuwait resulting in superior coverage, performance and reliability.
Kuwait Telecommunications Co, with the Brand name "VIVA Kuwait" was established as the third GSM Operator in Kuwait with Saudi Telecom (STC) as its Strategic Partner holding 51.8% stake in its capital.
Fill in the form below and register for free!
---
Fields marked with

*

are required